SF APPROVED STALLION, bay, born in 2013
Diamant de Semilly x Apache d'Adriers x Uriel
Djagger is the full brother of the SF stallion Rock'N Roll Semilly, French Champion of the 4 YO, French Champion of the 6 YO and 2nd of the CSIO5* GP 1,60m - La Baule 2015.
His grand-dam, Oriele de la Mare was French Champion of the 6 YO.
Djagger is placed 9th of the French Championships of the 5 YO 2018, "Excellent" and has also been sacred Champion of France of the 5 YO at the indoor finals in EquitaLyon !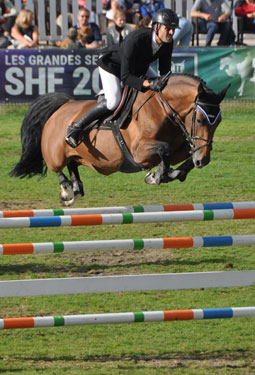 Fifty Fifty Semilly

SF APPROVED STALLION, Chestnut, born in 2015
Diamant de Semilly x Heartbreaker x an exceptional damline !
Her dam, Mic Mac du Dieu Démon, great 1,60m international winner herself, has also produced the SF approved stallion Groovy Semilly, full brother of Fifty Fifty Semilly and several excellent showjumpers like : Rexar du Houssoit (sBs stallion, CSI 1,60m), Rush on du Houssoit (CSI 1,50m), Panama du Seigneur (CSI 1,60m and also dam of the stallion Vivaldi du Seigneur CSI 1,50m, Amour du Seigneur CSI 1,60m, Tic Tac CSI 1,60m, Boyfriend du Seigneur CSI 1,50m, Soudan du Seigneur CSI 1,50m), etc.
*********** RESERVED ***********